In the heart of Arlington, TX, a revolution in dental care is underway, bringing smiles back to people's faces, literally. We are here to guide you through the transformative journey of dental implant surgery in Arlington. Let us delve deep into the world of dental implants, unraveling the benefits that implants can help bring to your life, the procedure of placing dental implants, and addressing the most pressing dental implant FAQs. From understanding what dental implants require to covering the cost aspects, we aim to provide you with all the information you need to take this significant step in enhancing your oral health.
Understanding the Dental Implant Procedure
The Initial Consultation
At the outset, it is essential to schedule a detailed dental implant consultation with a proficient dentist in Arlington. This initial step is where the Arlington dental team will meticulously assess your oral health, taking into consideration any oral health issues you may be experiencing. Leveraging the latest dentistry in Arlington, the team will determine the most suitable course of action tailored to your individual needs, including discussing potential alternatives such as bridges and dentures.
During this stage, potential candidates for dental implants will undergo a comprehensive evaluation to ascertain the condition of their gums and jawbone. It is a pivotal phase where you get to understand all the available options, including dental bridges and dentures, and make an informed decision based on the expert advice provided.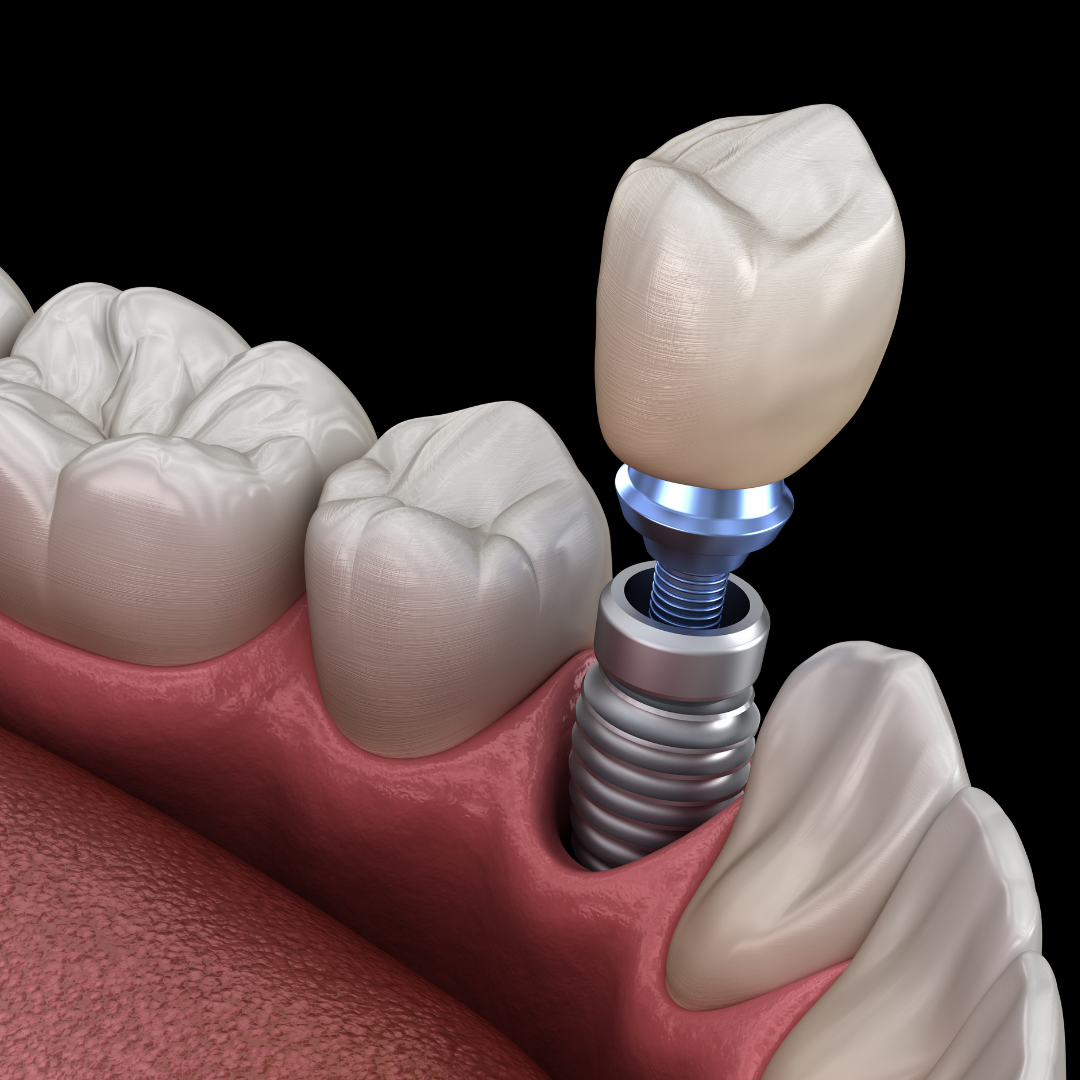 Implant Placement
Delving deeper into the core of the dental implant process, this stage involves the meticulous placement of the implant post, which is generally made of titanium, into the jawbone, effectively replacing the tooth root. This critical procedure lays the foundation for your new set of teeth, ensuring a secure base for the forthcoming tooth implant.
The implant placement procedure is executed with utmost precision, where the oral surgeon ensures the implant integrates seamlessly with the jawbone, a process scientifically known as osseointegration. Depending on the individual's dental structure, the implant may be a small component submerged partially or fully in the jawbone. This stage is pivotal in ensuring the longevity and success of the implant, setting a strong foundation for the new set of teeth that will not only enhance your smile but also improve functionality, allowing you to chew food properly.
Receiving Your New Teeth
Following the successful placement of the implant post, the next phase is the reception of your new teeth. This stage is characterized by crafting a dental crown, meticulously designed in a dental lab to match your natural teeth, to be placed atop the implant post. This process ensures that you regain a natural and radiant smile, bringing back the confidence that comes with a full set of teeth.
During this phase, the dental team in the Arlington office will work diligently to ensure that the crowns are a perfect fit, offering a natural appearance and restoring the full functionality of your teeth. It is a transformative process that leverages dental excellence to provide you with teeth that are almost identical to natural teeth, enhancing not only your smile but also offering a durable solution to missing one or more teeth.
The Benefits of Dental Implants
In the evolving landscape of dental care, dental implants have emerged as a revolutionary solution, offering a myriad of benefits that go beyond just a radiant smile. Let's delve deeper into the multifaceted advantages that dental implants provide, ensuring you are well informed to make the best decision for your oral health.
A Permanent Solution to Missing Teeth
In the heart of Arlington, dental offices are increasingly recommending dental implants as a robust and permanent solution to replace missing teeth with dental implants. These implants work seamlessly, integrating with your natural bone.
The procedure involves placing a dental implant, which is a small titanium post, into the jawbone. This single implant acts as a substitute for the tooth root, providing a firm foundation for the new tooth. Depending on your needs, you can opt for a solution that replaces a single tooth or an entire row of teeth, ensuring a natural and harmonious smile that stands the test of time.
Moreover, dental implants are made of biocompatible materials, predominantly titanium, which integrates with the bone, securing the implant effectively and ensuring a stable and long-lasting solution.
Maintaining Oral Health
Beyond the aesthetic appeal, dental implants play a pivotal role in maintaining oral health. They prevent bone loss, foster healthy oral hygiene, and can help in averting oral health issues that often accompany missing teeth.
By opting for dental implants, you are essentially providing a safeguard against the bone loss that occurs around missing teeth areas. The dental implant placement stimulates bone growth, ensuring a vibrant and healthy smile for years to come.
Furthermore, dental implants don't harbor bacteria, reducing the risk of infections and promoting overall oral health. Regular visits to a dental office for check-ups and maintaining good oral hygiene can enhance the longevity of the implants, allowing you to enjoy a vibrant smile for a longer duration.
Cost-Effectiveness
While the initial cost of the implant might seem steep, it is essential to factor in the cost benefits that dental implants offer in the long run. Dental implants are a great investment, reducing the need for frequent dental visits and additional procedures such as bridges and dentures.
Moreover, many dental offices offer dental insurance plans that cover a part or the entire cost of the procedure, making it a cost-effective solution in the long run. It is advisable to consult with your dental office to understand the different payment options available, including dental implant financing plans to ease the financial burden.
Furthermore, dental implants provide a permanent solution, reducing the ongoing costs associated with other tooth replacement options, and ensuring a one-time investment for a lifetime of radiant smiles.
Caring for Your Dental Implants
Embarking on the journey to restore your smile with dental implants is a significant step. As you navigate this path, it is essential to understand how to care for your dental implants to ensure their longevity and maintain a vibrant smile. Here, we delve into the crucial aspects of dental implant care, offering you a comprehensive guide to safeguarding your investment.
Regular Dental Checkups
After receiving dental implants, it becomes pivotal to adhere to a routine of regular dental checkups. These checkups are not just a formality but a necessity to ensure the longevity and optimal functioning of your implants.
During these visits, your dentist will meticulously examine the implants to ensure they are integrating well with your jawbone. They might assess the number of implants and their condition, checking for any signs of dental implant failure, which is a rare but possible occurrence.
Moreover, depending on how many teeth you have replaced, the dentist might suggest specific care routines. For instance, individuals with a single implant might have different care instructions compared to those with implant dentures or multiple implants.
It is recommended to schedule an appointment at our Arlington office to receive personalized advice and to cover any concerns you may have regarding the care and maintenance of your implants.
Oral Hygiene
Maintaining impeccable oral hygiene is non-negotiable when it comes to ensuring the health and longevity of your dental implants. It is essential to understand that dental implants work in harmony with your natural structures, and thus, require the same level of care as your natural teeth.
Regular brushing and flossing go a long way in preventing bacterial buildup around your implants. Utilizing a toothbrush with soft bristles and non-abrasive toothpaste can help maintain the pristine condition of your implants. Moreover, consider incorporating an antimicrobial mouthwash into your daily routine to foster a healthy oral environment.
Remember, good oral hygiene practices not only safeguard your implants but also offer a protective shield to your natural teeth, promoting overall oral health.
Avoiding Certain Foods
In the initial days post-surgery, it is advised to steer clear of hard and sticky foods to protect your implants. These foods can exert undue pressure on the new implants, potentially leading to complications.
As your implants integrate with your jawbone, made predominantly of titanium, they become a robust structure capable of handling most foods. However, exercising caution in the initial days can prevent any undue stress on the implants, ensuring a smooth healing process.
Over time, as the implants fully integrate, you will find that dental implants can be used just like your natural teeth, allowing you to enjoy a wide variety of foods without any restrictions. However, it is always beneficial to avoid foods that can cause damage to your teeth, be it natural or implanted, to maintain a healthy and vibrant smile for years to come.
FAQs
Are Dental Implants Right for Me?
Determining whether dental implants are right for you involves a comprehensive evaluation by a skilled implant dentist in Arlington. Factors such as your oral health and bone density are considered in this assessment.
How Long Do Dental Implants Last?
With proper care and maintenance, dental implants can last a lifetime, offering a permanent solution to missing teeth.
What is the Cost of Dental Implants in Arlington, TX?
The cost of dental implants in Arlington, TX can vary based on various factors including the expertise of the dentist and the complexity of the procedure.
Conclusion
As we wrap up this extensive guide, we hope to have illuminated the transformative potential of dental implant surgery in Arlington. From understanding how dental implants work in Arlington, to unraveling the myriad benefits they offer and addressing the dental implant FAQs, we trust you are now equipped with the knowledge to take the next step in your dental health journey. Remember, a radiant smile is not just a confidence booster but a testament to robust oral health. Dental implants are made of titanium, a material that integrates perfectly with your jawbone, offering a firm foundation for the artificial teeth. Whether you are considering one implant or many dental implants, understanding that implants also offer a chance to regain that radiant smile is vital. Choose dental implants in Arlington, TX, and choose a radiant smile.